You've Got To Get Out to the snow: Whakapapa Ski Field
Got To Get Out is a social enterprise adventure group on a mission to inspire people to get active outdoors, seeing the world and making friends!
This year due to popular demand we have set up the Got To Get Out Snow Club – and over 300 people have already joined the group, eager to hit the snow with a group of likeminded and fun loving people.
Got To Get Out's closest ski field is Whakapapa on Mt Ruapehu. Whakapapa has 550 hectares of lite-accessed (LIFT) and patrolled terrain and is one of New Zealand's largest ski areas (certainly the largest in the North Island). There is a huge variety of terrain, perfect for first timers, through to epic chutes, drops and bumps for experienced riders and skiers.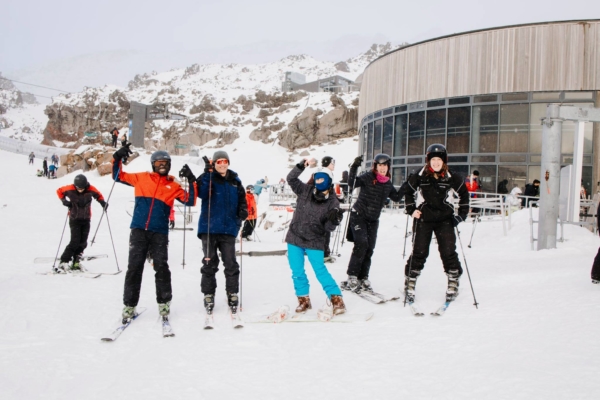 Whakapapa is located within the Tongariro National Park, which is a UNESCO World Heritage Site listed for its cultural and religious significance to the Maori people. The Maunga (mountain), particularly it's peaks, are of significance to the Ngati Tuwharetoa people.
When Got To Get Out hits Whakapapa, we always stay in fantastic on-mountain accommodation we've dubbed the Got To Get Out Ski Lodge. It's actually the Alpine Sports Club (ASC) 'Ruapehu Hut', built back in the 1950's and much loved by generations of ASC club members.
We are very lucky to have access to this lodge, which only has capacity due to ASC now owning another nearby lodge dubbed the 'A-Frame'. The Got To Get Out Ski Lodge has male and female bathrooms, hot showers with an awesome brand new hot water system, a well-stocked kitchen and the perfect sized open plan living and lounge where Got To Get Out-ers always have a Saturday night feast after a hard day on the mountain.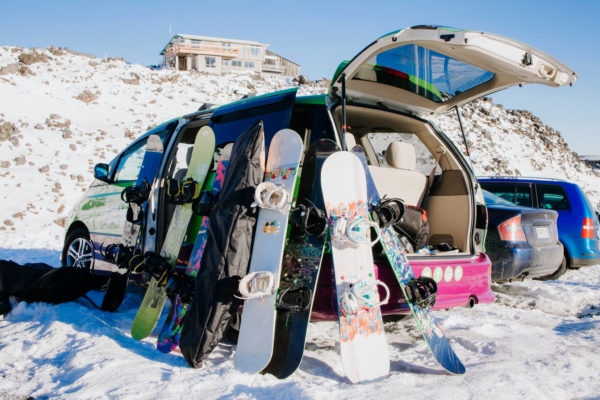 There's something very special about staying on-mountain, compared to being in National Park or Ohakune where we have stayed in the past. The Got To Get Out Snow Club normally departs the main city centres (Wellington or Auckland) early evening on a Friday and arrives late on Friday night. Once out of the vans we all don backpacks then trudge the path to the hut, about a 15-20 minute walk through knee deep snow. It may sound crazy – but this adventurous start sets the scene for the whole weekend! No shuttles are needed when you stay on-mountain, we just park our JUCY vans at the 'Top o The Bruce' car park on Friday night, and leave them until our departure on Sunday afternoon.
As well as the convenience of being on-mountain, there's an added camaraderie that is achieved by staying together in a ski lodge. The twenty people we have in the lodge are it in terms of company – so we make sure everyone gets along! With limited phone reception and no WIFI, the guests talk and laugh and play games – it's almost like school camp, but with some mulled wine or ice-cold beer thrown in for good measure.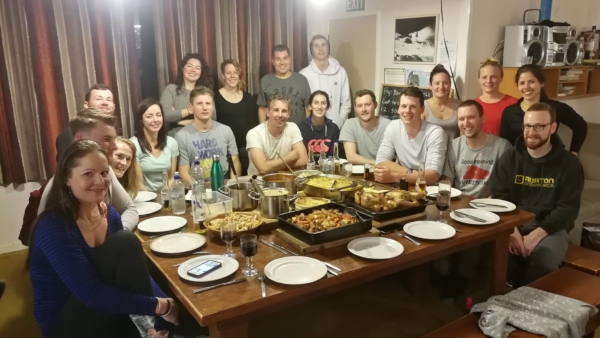 Mt Ruapehu itself has great systems and facilities, so once you are checked in with your pass and rental gear, you can hit the mountain with ease. Beginners can learn the ropes in comfort on the Happy Valley beginners slopes (now equipped with a very safe and warm elevator instead of chair lift – installed 2017), and the more experienced have dozens of harder trails to choose from, ranging from the relatively safe lower mountain (accessed via Rangatira or Waterfall Express lifts) up to the T-bars or Western slopes for those wanting to be more isolated with more challenging terrain.
You can read more about Mt Ruapehu ski areas at www.mtruapehu.com
Written by Robert Bruce, GTGO Founder